Gift Cards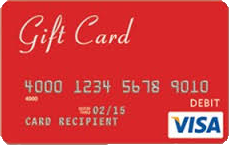 Gift Giving Has Never Been Easier!
A Visa® gift card is the perfect gift for birthdays, anniversaries, holidays or just because you care...and the best part is they're perfect for everyone. If you would like to purchase a VISA Gift Card, please visit one of our branches.
Gift cards may be paid in cash, check or via withdrawal from members' account. Gift Cards are not reloadable and expire after 7 years. Gift Card Terms & Conditions and Frequently Asked Questions are provided to the member at time of purchase.
Cardholder Fees:
Purchase of Card: Up to $500.00 ----------$3.00 $500.01 to $1,000.00 -------------$5.00
Point of Sale Purchase — FREE
Account Information Access — FREE (through automated phone line and cardholder website)
PIN Selection/Change — FREE (through automated phone line and cardholder website)
ATM Withdrawal — $1.50 (we offer Visa® ATM access)
ATM Balance Inquiry — $0.75 (free through automated phone line)
ATM Decline/Point of Sale Decline — FREE
Monthly Account Maintenance — $2.95 (waived for the first twelve months after activation)
Live Operator Cardholder Support — FREE (offer free, live customer service support for lost and stolen cards, disputes and other inquires by calling #1-888-399-7511)
Replacement Card — $10.00 (lost/stolen or after-expiration replacement, includes transfer or funds to the new card)
Manual Check Issuance — $15.00 (paper check refund of the remaining balance on the card mailed to the cardholder)

Website for members: www.myprepaidbalance.com